Es werden Sterne geboren und erlöschen in grandiosen Schauspielen. Aus ihnen entsteht Sternenstaub und daraus wiederum scheinbar endlos neues Leben, damit es mit 1670 Kilometer pro Stunde auf einem Planeten, wir nennen ihn Erde, um sich selbst rotieren kann. Inmitten des Entstehens und Vergehens auf diesem Sandkorn im Universum, strecken sich unzählige Schaffende, darunter auch ich mich empor, um das Rumoren und Klingen unseres Lebensraumes, in den wir hineingeworfen worden sind, in Bilder zu verwandeln..
Stars are born and extinguish in grandiose spectacles. From them, stardust is created and from that a seemingly endless new life, in turn, so that it can rotate around itself at 1670 kilometres per hour on a planet called Earth. In the midst of the creation and decay on this grain of sand in the universe numerous creators are stretching themselves, among them me, to transform into images the rumbling and ringing of our habitat into which we have been thrown..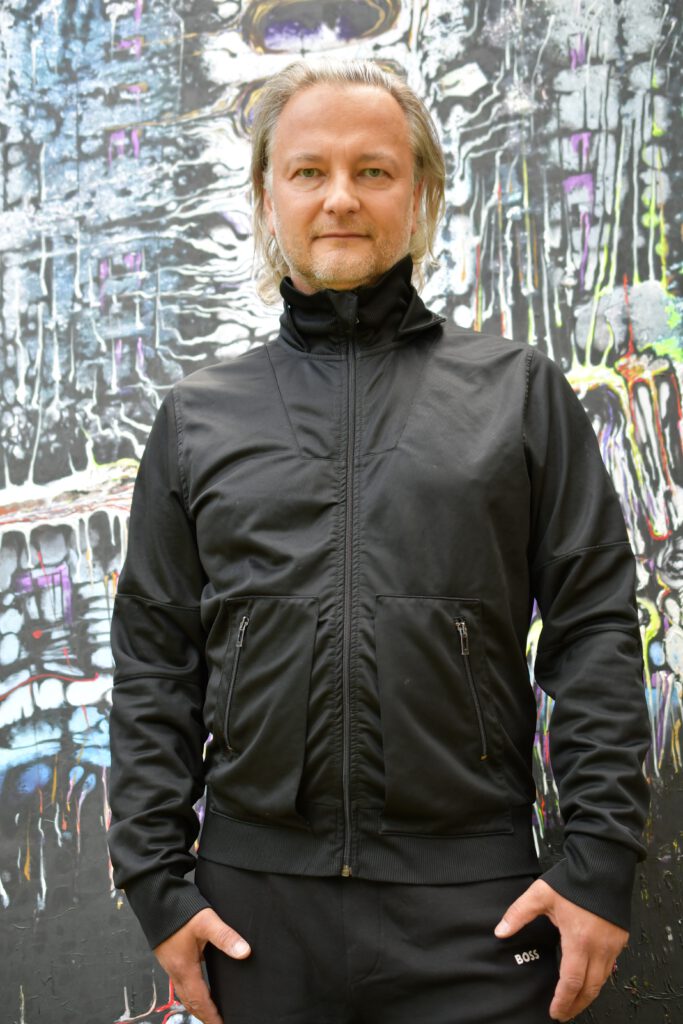 Mario Thronicke wurde geboren in einem Land, das nicht mehr existiert und in einer Zeit, in der die Menschheit neue Welten entdeckte. Er studierte an der Kunstschule Berlin und weist Ausgstellungen in Berlin und deutschlandweit auf. Zur Zeit lebt und arbeitet er in Berlin. Beeinflusst wurde er durch das Künstlerkollektiv Tor111 und den Künstlerfreund Gerd Sonntag sowie durch viele weitere Menschen, die es geschafft haben, von äußeren Zwängen befreit, etwas aus dem Inneren heraus zu erschaffen.
Born in a land that no longer exists and in a time when mankind discovered new worlds, Mario Thronicke lives and paints in Berlin. He has studied at the Berlin Art School and had  exhibitions in Berlin and throughout Germany. He was influenced by the artist collective Tor111 and his close artist friend Gerd Sonntag as well as by many other people who have managed to create something from within, freed from external constraints.